Duration
1:32:13
Calories Burned
955 kJ
04/14/2018
Activity

Run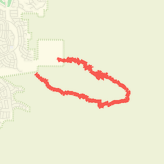 Duration
35:06
Calories Burned
944 kJ
12/31/2009
Activity

Run
We create fun, challenging courses on the best trails in Las Vegas, all while providing the best race environment in Las Vegas.
Test yourself in the beautiful outdoors of Las Vegas on the best trails Southern Nevada has to offer, with races from 5Ks to marathons and ultramarathons.
Gear Tracker
You haven't added any gear yet.